Fashion Designer Assistant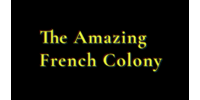 www.theamazingfrenchcolony.com
País :

Portugal

Distrito :

Cidade :

LISBOA
Categoria :

Tipo de contrato :

Tipo de emprego :

A tempo inteiro

Experiências :

Estudante

Idioma :

Inglês(Alto)
Descrição da empresa
www.theamazingfrenchcolony.com
Descrição do cargo
Fashion and Design laboratory : fashion embellishments, accessories, luxury interior design and decoration...

Color experimentations, embellishments experimentations, development of techniques, creation of textile volumes and textile manipulation, production of accessories, sourcing of materials and tools.

We make fashion accessories and textile ornamentation researches for luxury brands and «Haute Couture». We work also for decoration and luxury interior design (US, UK, France, Russia, ...)

Our work is very manual but we do not make clothes.

The intern will assist, in a versatile way, the development of the workshop projects.
Perfil
You are fashion or art student.

Techniques you can practice: manual sewing, industrial sewing machine, hand embroidery (yarns and beads), dyeing fabrics, decorative techniques (textile ornamentation), artificial flowers ("silk-flowers"), millinery, feathers ("plumasserie"), ..., Photoshop, Illustrator.

You need to be very meticulous, attentive, curious and aware of contemporary trends and international fashion.

LANGUAGES : ENGLISH (fluent) AND FRENCH (fluent)

Please send your application with your professional portfolio of creations (with "details" : embroidery, hand stitching, knitting, ornaments, jewelry ...).


A professional portfolio with real details is mandatory. We don't care about virtual designs.
Keep in mind that the portfolio quality level determines your own level.
No answer will be given to applications without a portfolio or portfolio that does not match what is specifically requested.

Contacto
Jean Yves FRANCH