Fashion Internship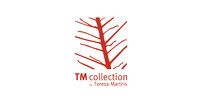 TMcollection Rua das Paradias 11 C
www.tmcollection.com
Descrição da empresa
TMCOLLECTION STANDS FOR

Timeless woman's clothing in noble natural fabrics embellished with exclusive prints, textures and embroideries.

Colourfull boldness within free-floating silhouettes.



CONCEPT

Collections are entirely developed by our design team under Teresa Martins creative direction.

We create timeless garments and home collections which are a form of art and expression of a unique style. The way we dress ourselves and our "home" expresses who we are and the way we see the world, our main source of inspiration.

We believe designing is about pure and intense emotions. It's about feeling.

Garments made with integraty instantly have more longevity and become highly desirable and imbued with emotion.

Understanding all the process behind each piece will lead to the uncover of the extraordinary in the ordinary.

The use of natural materials, traditional craftsmanship and te pursuit for excellence and cultural variety are standard values that guide our work and should guide the work of all modern designers.
Descrição do cargo
TMcollection is a vibrant team with base in a beautiful office and showroom in Cascais, Portugal, not far from the beach!

In this eclectic industrial space everything happens at a very fast pace, with no time to get bored, this is for sure. Here is where our prints are designed, where the patterns for our collections are created, where look books and catalogues come to a definition.
Perfil
Are you a motivated and talented graphic design student or just graduated in search of an opportunity to practice your skills? Or you know someone that perfectly fits the profile? We are now looking for an intern to join our international tribe, learn from us and create with us for a minimum of 3 months.
Send us your CV and portfolio

Recomendações
graphic design
collection preparation a plus
product design a plus